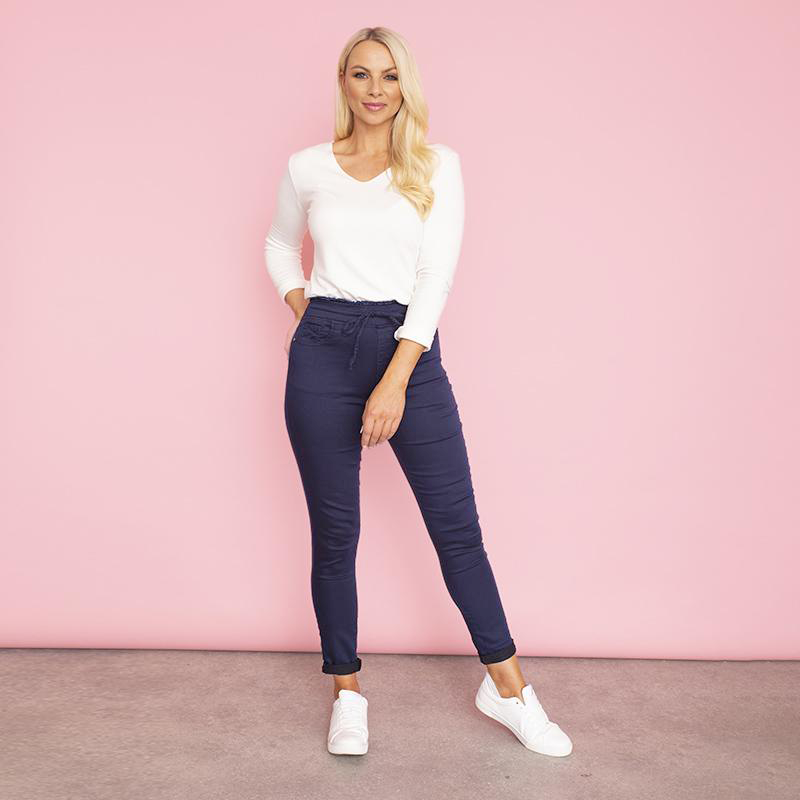 "
Love them. So comfortable. Can't wait to go on date night with the hubby

"
- Siobhan O.
⭐⭐⭐⭐⭐
Dana Drawstring Classic Jeggings (Navy)
Material Content:
75% Cotton
23% Polyester
2% Elastan
100% No-Risk Money Back Guarantee

Material Content:
75% Cotton
23% Polyester
2% Elastan
The blonde Model is 5'9 and Chloe the brunette is 5'4 but height doesn't matter with these as they have a roll up hem on them so you can just roll them to where ever you want
These Jeggings have it all they are skinny leg with elasticated drawstring waist with pockets and the most comfortable stretchy fabric. Pair these with your favourite trainers and sweater for all day comfort and style.
Skinny Leg
Elasticated Waist 
Drawstring
Pockets
No Hassle Returns Policy
30 DAY MONEY BACK GUARANTEE!
If you are not happy with your purchase simply pop it back in the post. All the instructions for returning your item will be included in your order, to make it as easy as possible for you. Once we receive your order back within 30 days, we will process your refund immediately :)
Free Delivery on Orders > €75
What Our Customers Are Saying...
★ ★ ★ ★ ★ 
"

I absolutely love these jeggings, they're so comfortable, soft & cosy

.
"
-Geraldine B.
★ ★ ★ ★ ★ 
"
Very comfortable and great fit. Thank you.
"
- Aisling M.
★ ★ ★ ★ ★ 
"
Absolute comfort for my active work life....highly reccomend and perfect fit👍💖
"
-Lorna C.
★ ★ ★ ★ ★ 
"
No zips, no buttons...just pull them up! The elasticated waist is sooo comfy AND there is a drawstring...love them

"




- A.M. Gannon.
★ ★ ★ ★ ★ 
"
So comfie doesn't feel like your wearing jeans, very happy going to order in blue now 😍
"
-Audrey F.
★ ★ ★ ★ ★ 
"
Love these. I have three pairs now. Had a baby 6 months ago and these are the only jeans I can wear comfortably!
"
- Samantha C.